About us!
Today, Jan de Lely B.V. is still an authentic family owned business, actively moving High Value product.
The beginning
Jan de Lely B.V. was founded in 1910 by Jan de Lely, as a transport company specializing in transport to countries that included North Africa, the Eastern bloc countries, as well as countries in the Middle East. Such countries were typically not served by the existing transport providers at that time.
Jan the Lely has always been thinking ahead, and out of the box, aiming for superior results. Years ago, a large international manufacturer of tobacco product has approached our company asking us to develop alarm systems on our fleet in order to secure the clients' product during transportation. Meanwhile, today, we operate 65 newly acquired Schmitz trailers for this same client, which are fully protected and secured on V-1 level.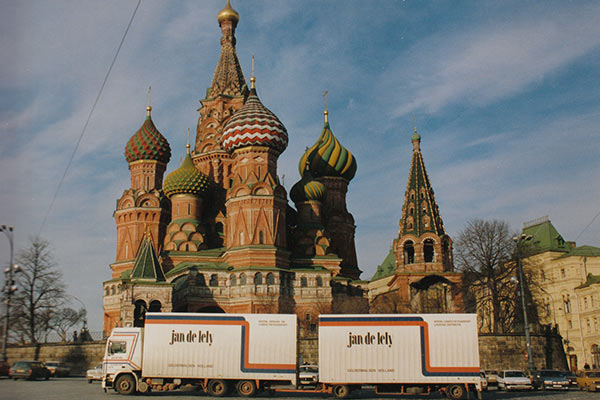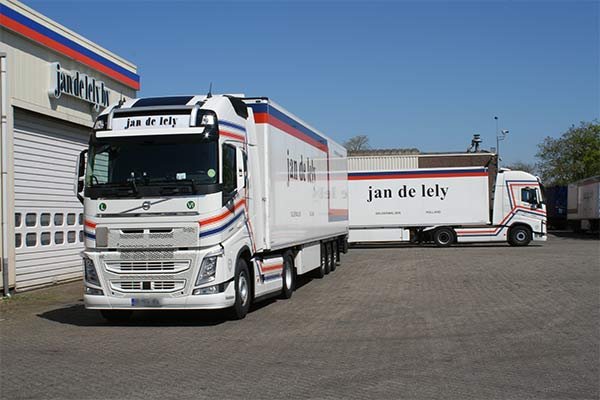 Today
All our Volvo Euro-6 trucks are equipped with an XXL cabin for the comfort and security of our drivers. Our fleet is equipped with state-of-the-art electronic security sensors and transmitters, in order to safeguard our employees, our clients' product as well as other road users in an utmost manner.
History of our company
Click on a year to reveal the details.
Jan de Lely B.V. Is founded in Rotterdam, The Netherlands.
The Jan de Lely company was booming, resulting in a large client base growth.
This client base included some famous client names, such as the Rotterdam Philharmonic Orchestra, who became a regular client.
Also, precious artwork such as paintings from Dutch masters, including Rembrandt was transported on behalf of select clients, sometimes resulting in attention from national newspapers. In those days some of these paintings were of such a high value, these transports were escorted by national and international law enforcement.
The year Jan de Lely BV introduced a linehaul service between Rotterdam and Malta. Initially with 4 vehicles, but withing 12 months weekly approximately 10 vehicles were operating this new route. Jan de Lely BV was the first operator with authorization from the Maltese authorities to service the island with Dutch-registered equipment, until then only Malta-based operators had this privilege, in order to protect the domestic Maltese market.
With over 80 trucks and trailers in three months, Jan de Lely BV was working on a project transporting equipment for agricultural purposes between Europe and Haifa, Israel.
At this moment in time, Jan de Lely BV was really growing and expanding. With schedules linehauls service to Russia, including the Baltic states, North Africa, Greece (including opening a branch in Thessaloniki, Portugal, Great Britain, Sweden, Yugoslavia, Hungary, Romania, Turkey, and Italy. For these linehauls, over 160 employees where employed. The loading capacity per vehicle varied between 80 and 100 m3.
Due to the success and growth of the company it was time to expand the main facility in Geldermalsen to 30.000 sqm. This was a big, but necessary step. The new facility included a newly built office and an in-house technical workshop. The opening ceremony was led by Geldermalsen's mayor C.W. van Baris.
Opening of a branch in Morocco, resulting in a scheduled, daily linehaul between The Netherlands and Morocco.
Jan de Lely BV starts a courier service division in Rotterdam. A setback this year is the ignition of the civil war in Yugoslavia, as Jan de Lely carries out a significant number of transports to this region, this has a substantial impact on the company's revenues.
An agreement between Jan de Lely and Moroccan authorities is signed to deploy 170 reefer trailers for a linehaul service between France and Morocco. Transportation of relief supplies to Serbia.
Jan de Lely BV is getting more innovative, all vehicles are being equipped with Global Positioning Satellite systems (GPS), which was unique those days.
The 100th Volvo FH 12 truck with 380 Hp is being delivered.
Russia crisis, also known as the Rubel Crisis. As Jan de Lely BV conducted a significant number of movements into this area, this had a negative impact on their revenues.
Connecting clients through Electronic Data Interchange (EDI).
Jan de Lely BV transported 60 tons of relief supplies to Iraq, intended for the local youth in Iraq. The journey, through Turkey and Iran, (a 14000 km return trip) took five weeks. 
Jan de Lely BV transported 60 tons of relief supplies to Iraq, intended for the local youth in Iraq. The journey, through Turkey and Iran, (a 14000 km return trip) took five weeks.  
Purchase of the first 10 container chassis.
Purchase of the first ten 45 ft containers, for the purpose of intermodal transportation. Launch of a scheduled linehaul service to Romania, with six daily departures.
First certification TAPA EMEA TSR 1, 2 and 3, as well as V-1 certification supporting the tobacco industry.
Participation and accreditation Lean & Green environmental program. Our new TMS system becomes operational.
Also outside Europe
On a daily basis, not just European destinations are being served, but also far outside Europe, by means of FTL as well as LTL:
Ukraine
Bosnia
Montenegro
Moldavia
Macedonia
Belarus
Russia
Albania
Turkey
Serbia
Malta
In the last few years, we also serve more short-distance destinations, such as Germany and the Benelux. Since 2019 Jan de Lely BV also offers groupage service to Italy. This type of service differs from our FTL (Full Trailer Loads) service, as now also LTL (Less than Trailer Loads) or partial loads are being transported.